Context
Ingentium was interested to see whether the increasing popularity of CBD products globally has affected innovation in cannabinoids, as measured in patent filings. Working with an online global patent database we searched for cannabinoid and cannabinoid receptor-related technologies filed from 2010 onwards and grouped our results by simple families to avoid duplicates of patents which have been registered in different jurisdictions.
Tracking patenting activity within a field is a useful (and strategic) way of conducting market analysis. It allows one to identify key trends in innovation in specific technical fields, such as health, which provides a foundation for policy, business planning and evidence-backed decision-making as may be relevant.
A patent family is a group of patent documents that stem from the same initial document, called the priority filing. An applicant will file the initial document in one country and then file subsequent applications in other jurisdictions.
What is CBD?
An acronym for cannabinoid, CBD is the second most prevalent cannabinoid (naturally occurring compounds) produced by the cannabis family of plants. It is generally agreed that cannabis is the umbrella term for all of the plants that exist in the genus Cannabis sativa (worth noting that until recently most people that that Cannabis indica was a separate specie however this is highly disputed now). Cannabis plants can be differentiated into two main categories, marijuana and hemp. While marijuana tends to contain more than 0.3% of tetrahydrocannabinol ('THC'), the primary psychoactive element in cannabis, hemp is stipulated to contain 0.3% or less THC. Both marijuana and hemp contain CBD that can be extracted. However, globally, hemp-derived CBD tends to be the most popular as it is subject to less stringent legal regulation.
CBD does not alter a person's state of mind, and while the science surrounding this subject matter is not entirely conclusive,  its properties are purported to cause significant bodily changes, restoring equilibrium and providing support to our body's (and in fact, the bodies of other mammals, e.g. think pets) endocannabinoid system which plays a vital role in coordination and movement, pain, emotions and mood, thinking, appetite, memories, and several other physiological functions.
Deregulation & Patenting
Figure 1 below shows that there has been a clear increase in patenting activity with respect to CBD-associated products and technologies filed globally over the past 10 years.  After a slow growth rate between 2010 and 2013, where the average number of patent filings appeared to be 71, 2014 witnessed a sharp rise of 77 percent increase in CBD patenting activity.  This was then followed by 3 years of steady increase in patenting, averaging 50 percent year-on-year. Online data shows there has been a notable decrease in the number of filings for 2019; however, this is likely because complete filing data is not ready for the year. It is likely that the actual figure is within range of the linear forecast seen in the graph. Based on this trend, we expect growth in CBD-related patent filings, for commercial and non-commercial R&D to continue.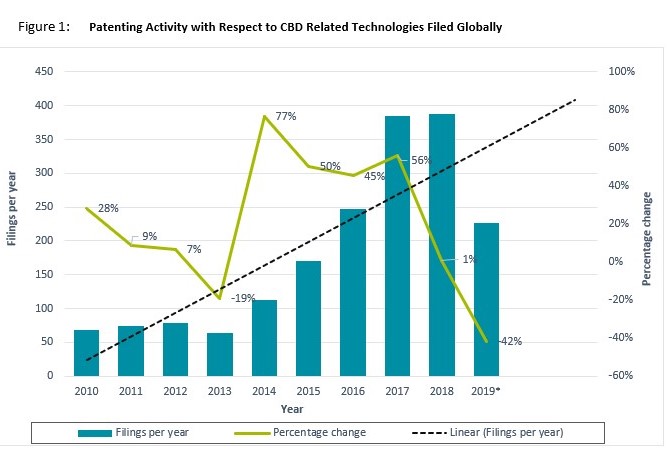 The country with the most recorded filings for CBD technologies is the USA and the sharp rise in filings from 2013 onwards correlates with and can be attributed   legislative changes in the country. While cannabis for medicinal use was legal in many states prior to 2010, in 2012 two states, Colorado and Washington, voted to legalize the recreational use of cannabis and by 2016 the majority of states had followed suit. The 2018 Farm Bill legalizes the (regulated) production of hemp, differentiating it from other cannabis plants. These changes have encouraged more liberal attitudes towards CBD both in the USA and internationally as an increasing number of countries have sought to either outrightly end cannabis prohibition or deregulate the status of CBD and associated products. This has in turn led to increased global CBD economic activity (particularly in fast growing markets such as China) and CBD-associated STEM ('Science, Technology, Engineering and Mathematics') professionals, who tend to be responsible for producing patentable ideas. Of the current top 33 countries filing CBD patents, over 50 percent legalised cannabis and/or CBD in the last decade. A table of this can be seen below.
 
Medical CBD & Cannabis            
Recreational
Legal
Date
Description
Legal
Date
Description
Australia
Yes
2016
CBD is legal, but classed as medicinal cannabis and therefore subject to the same stringent approval and purchase procedures. Products can only be purchased from approved vendors.
Yes
2019-2020
The recreational possession and cultivation of marijuana is legal in the country's capital. Persons above the age of 18 are permitted to possess up to 50 grams of dried marijuana and grow two plants per person or four per household at a time. Supplying the drug to other people remains illegal.
Canada
Yes
2001
Cannabis and CBD for medicinal use was legalised in 2001
Yes
2018
All
China
No
For CBD production farmers must obtain licenses in one of two provinces where the industry has been legalized and plants must contain less than 0.3% THC. Sales of ingestible CBD products are strictly regulated within the country.
No
South Korea
Yes
2018
First country in East Asia to legalize medical marijuana with regulations; however, the use of hemp oil or cannabidiol (CBD) is now legal for medical use.
No
UK
Yes
2018
CBD is legal and can be purchased over the counter but must
Israel
Yes
2018
All hemp-extracted products including CBD have been decriminalised. Cannabis use for medicinal purposes is permitted when sanctioned by an authorised medical professional.
Partially
2019
The revision of the Cannabis Penalties Law legalised the home use and possession of up to 15 grams
Denmark

Yes
2018
CBD is legal provided it contains 0.2 % THC or less. Under a four-year pilot programme initiated in 2018 doctors may prescribe medicinal cannabis to certain patients.
No
Russia
No
Hemp can legally be cultivated throughout the country; however, the extraction process is illegal
No
Germany
Yes
2017
The use of cannabis products, including CBD, is legal provided it contains 0.2 % THC or less. Medicinal cannabis can legally be prescribed to patients deemed 'seriously ill' by doctors.
No
A priority country is a term used to identify the first jurisdiction in which a patent application is filed.  Applicants generally file in their home country first and then extend protection (via family filings) to other jurisdictions.  Priority countries are quite telling, as they often point out where a lot of R&D is taking place and, in the case of public institutions, where national investment exists for a particular line of research.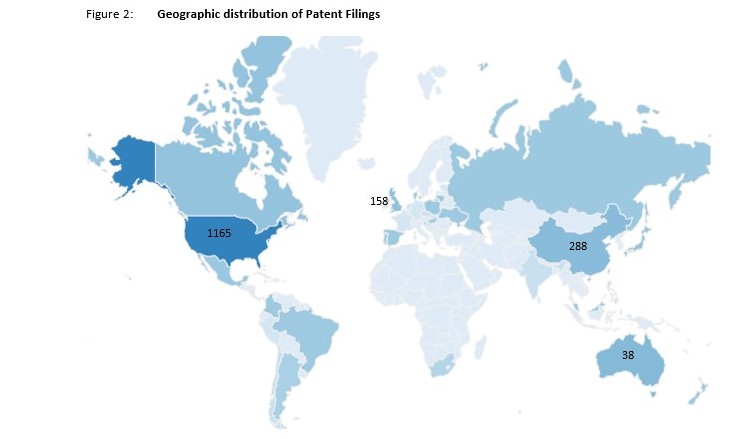 Looking at the current patent landscape, most CBD-related filings made in the past 10 years appear to be in the USA, far more than those filed in China and the UK. The Top 10 CBD Priority Countries are noted below.
| | |
| --- | --- |
| 1.       United States | 1165 |
| 2.       China | 288 |
| 3.       The United Kingdom | 158 |
| 4.       Republic of Korea | 55 |
| 5.       Australia | 38 |
| 6.       Canada | 20 |
| 7.       Israel | 18 |
| 8.       Denmark | 14 |
| 9.       Russian Federation | 12 |
| 10.   Germany | 9 |
There are over 270 different International Patent Classification ("IPC") codes assigned to CBD- related patent filings in the past ten years. IPC codes provide a good indication of technology niches which are popular (or conversely less popular – and perhaps an area of opportunity) with innovators.  A snapshot of the top CBD IPC codes can be seen below: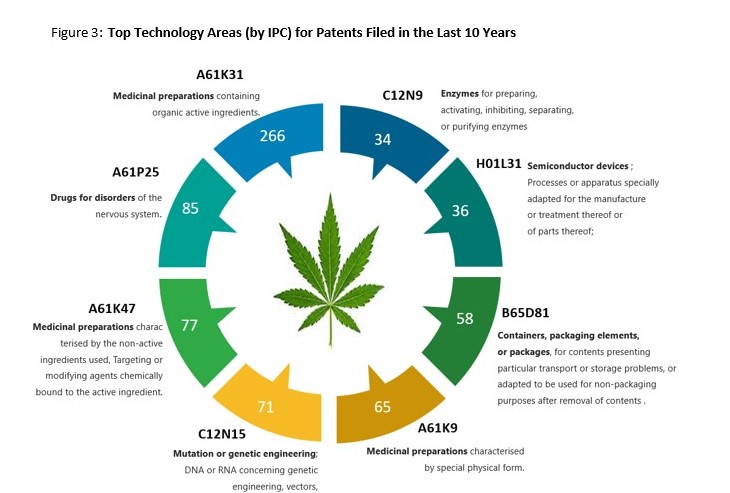 Identified patent filings tend to fit into 5 main areas of application (that are not necessarily mutually exclusive). These are listed below alongside a number of interesting examples including: compositions to treat and mitigate antidepressant dependence and withdrawal, cannabis extract chewing gum, CBD for use in teeth whitening, sustained released CBD formulations and methods and devices for CBD vaporization.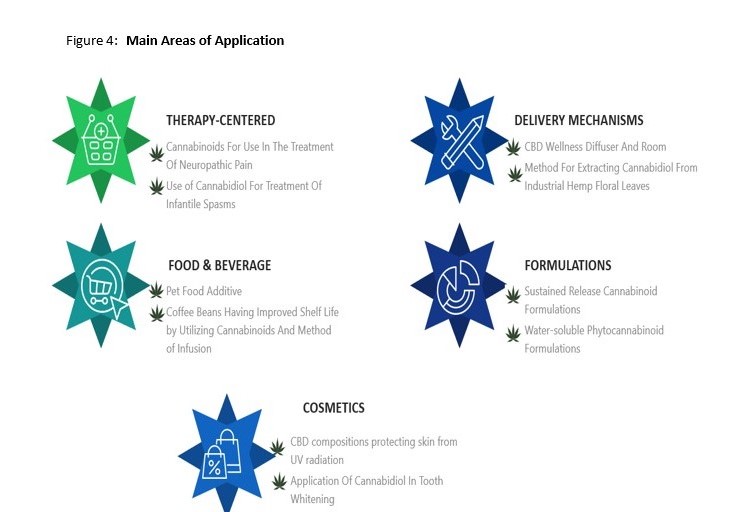 Top Applicants and Assignees
The vast majority of Top Applicants are prominent pharmaceutical companies developing and modifying medicinal formulations, enzymes and proteins to aid in the treatment of medical ailments such as neurodegenerative conditions. The one exception is the research focussed, Yissum Research Development Company (technology transfer company) of the Hebrew University of Jerusalem ('Yissum Res Dev Co'). In addition to therapeutic formulas the Israeli research institute holds patents relating to CBD formulation in food, beverage and cosmetics.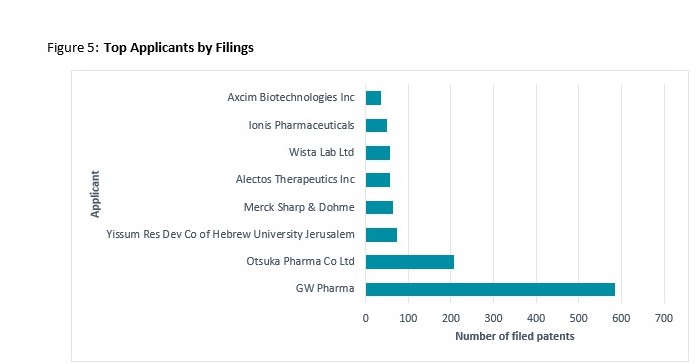 GW Pharma
Is a prominent, UK-headquartered cannabinoid therapeutics company leading in the US and globally in terms of CBD patents filed. The firm is attributed with successfully patenting Sativex®, the world's first prescription medicine derived from the cannabis plant for use in transmissible neurodegenerative conditions such as multiple sclerosis (WO 2009/013506 A1) and more recently cancer-associated pain. The firm's inventions appear to be focused on pharmaceutical formulations and delivery mechanisms associated with, cannabis-based therapies for (primarily) neurological conditions.
In order to commercialise (technology, trademarks and resulting intellectual property) Sativex® in different regions GW Pharma signed licence agreements with four pharmaceutical companies- Bayer AG, Almirall S.A., Otsuka Pharmaceutical Co. Ltd. ('Otsuka') and Novartis International AG which lay out royalty rates of up to 30 percent. This rate is higher than usual- a good indication of a lucrative product. GW Pharma has a global portfolio with the bulk of its patents filed in the US and the UK.  GW Pharma has a number of innovations registered under its subsidiary; GW Research Limited.
Otsuka
Is a Japan-headquartered multinational pharmaceutical company. The firm's inventions involve the use of cannabinoids in the treatment of conditions such as cancer and epilepsy. As stated above, between 2007 and 2017 the company maintained an exclusive licensing and research agreement with GW Pharma to develop and market Sativex® in the US and thus the two firms are listed as co-applicants in the majority of its filed patents for the last decade. Since parting ways with GW Pharma, the company does not appear to have filed any new CBD-related filings. Otsuka maintains a global portfolio, its top filing jurisdictions are noted as the UK, the US, China and Canada
Yissum Research Development Company of the Hebrew University of Jerusalem Ltd
Is an Israel-incorporated technology transfer company established to conduct academic research and protect and commercialise the intellectual property of the Hebrew University of Jerusalem. The firm's most relevant patents relate to the use of CBD to prevent diabetes (US 8071641 B2), and chemotherapy-induced nausea (US 8119697 B2) as well as fluorine substituted CBD compounds for the preparation of medicines (AU 2014/206036 A2). Publicly available data suggests that many of these formulations are ultimately used in veterinary applications, food and beverages and extraction and delivery methods. Yissum maintains a fairly global portfolio with top filings in the USA, China, Europe, Israel and Australia.
Merck Sharp & Dohme ('MSD')
Is a prominent US-headquartered multinational pharmaceutical company. The firm's CBD patents involve the development of first-in-class agents that modulate the enzyme O-GlcNAcase (OGA) as a disease-modifying therapy for treatment of neurodegenerative disorders such as Alzheimer's disease (WO 2012/061971 A1)). The bulk of the firm's patents have been filed in the USA and Australia and in collaboration with other applicants, namely Alectos, whom they are in formal partnership with (see below).
Alectos Therapeutics Inc
Alectos is a Canada-incorporated pharmaceutical company involved in the discovery and development of novel small-molecule therapeutics for the treatment of human disease. The firm's CBD patents are centred around enzyme modification and are all in partnership with Merck. The firm's patents are filed in the USA, Australia and with the European Patent Office.
Ionis Pharmaceuticals
Is a US-incorporated pharmaceutical company involved in RNA-targeted technologies. The firm's most relevant patent relates to compositions and methods for reducing mRNA and protein in animals which are useful in the treatment, prevention, amelioration, or slowing down of neurodegenerative diseases (AU 2016/249002 A1). The firm's top filing jurisdictions are the USA, Australia and Canada.
Case study: Cannabidiol in China
History and context
China is one country that presents us with a unique case study. Technically speaking, cannabidiol has not been authorized for consumption; however, the country is not allowing this to prevent it from capitalising on global CBD demand. Historically, for thousands of years, hemp was widely cultivated in certain parts of the country to produce hemp seeds, oil and reportedly traditional medicine. However, in 1949 China criminalised the cultivation and use of cannabis. Later, in 1985 it outlawed the cultivation of hemp. In 2010 China relented on industrial hemp, allowing Yunnan, a province in the south west of the country, to resume production principally for textiles. In 2017 Hanma Investment Group became the first company to receive permission to extract cannabidiol in southern China. The company reportedly maintains a large overseas market and sells products such as oils, sprays and balms as a treatment for insomnia, acne and even diseases like diabetes and multiple sclerosis.
IP trends
Focusing on patents who label China as their priority jurisdiction we identified the earliest CBD-related filing to have been made in 2001. The patent concerned a Method for Producing an Extract from Cannabis Plant Matter, Containing A Tetrahydrocannabinol and Cannabidiol and Cannabis Extract (CN 1469741 A) filed by a German company.
Between 2010 and 2011 we identified less than five CBD-related patents whereas in 2019 we found circa 80, an increase of more than 2500%. The types of innovations have evolved from the use of canabidavirin (a homologue to CBD) (CN 201180026947 A) and Tetrahydrocannibivarin (a homologue to THC)(CN 201080031065 A) In The Treatment Of Epilepsy To Preparation Methods Of Water Soluble Cannabidiol Shower Gels (CN 110200832 A), Hemp Essential Oil Masks (CN 110227042 A) And Environment-Friendly Efficient Cannabidiol Purification Processes (CN 201910360722 A).
This trend is best demonstrated through the shift in IPC classification codes. In 2010 there was a small range of five IPC codes, with the highest number of patents being labelled as Medicinal preparations containing organic active ingredients or drugs for disorders of the nervous system. Data from 2019 revealed over 53 different IPC codes with Preparation of compounds having hydroxy or O-metal groups bound to a carbon atom of a six-membered aromatic ring and Cosmetics or similar toilet preparations being ahead of Medicinal preparations. A more comprehensive display off the results from both years can be seen below.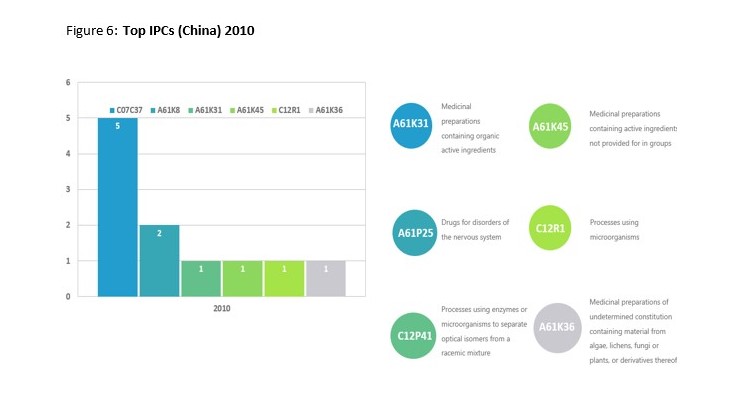 In sum, data indicate that the global CBD sector has undergone rapid expansion with increasing resources being put towards innovation and commercialisation of a growing number of products and technologies. In this sense the sector presents investors with potentially lucrative business opportunities and should be one to watch in the short term- as at June 2019 the global cannabidiol market was valued at USD 300 million and is forecast grow to around USD 2.3 billion by 2025; however, these figures must be caveated. This sector is still emerging. It is volatile and plagued by inconclusive scientific research as well as inconsistent and stringent regulation. The USA still maintains the vast majority of patents but as deregulations trends continue to spread globally this situation may very well change as competitive economies, such as China seek to undermine the country's dominance.
We hope that this vlog/blog sparked your interest in the innovation space surrounding CBD.  As always, please feel free to get in touch with us. Also, if you liked this blog or the accompanying vlog – you can subscribe to our quarterly newsletter to stay IN THE KNOW w/ Ingentium.
References
https://www.medicalnewstoday.com/articles/317221.php#benefits
https://www.livescience.com/65811-what-is-cbd.html
https://www.grandviewresearch.com/industry-analysis/cannabidiol-cbd-market
https://www.wipo.int/edocs/pubdocs/en/wipo_pub_l434_3.pdf
https://www.bloomberg.com/press-releases/2019-06-03/global-cannabidiol-cbd-market-expected-to-reach-us-2-3-bn-by-2025-qy-research
https://clarivate.com/derwent/blog/money-in-the-pot-an-analysis-of-patented-cannabinoids-innovation/
https://www.biopharmadive.com/news/after-a-decade-of-work-otsuka-and-gw-part-ways-on-sativex/512967/
https://beta.companieshouse.gov.uk/company/03107561
https://www.nytimes.com/2019/05/04/world/asia/china-cannabis-cbd.html
https://www.fool.com/investing/2020/02/04/better-buy-gw-pharmaceuticals-vs-cara-therapeutics.aspx
https://clarivate.com/derwent/campaigns/money-in-the-pot/
http://ir.gwpharm.com/news-releases/news-release-details/gw-pharmaceuticals-announces-sativex-receives-fast-track
https://webcache.googleusercontent.com/search?q=cache:fbfmhc7T-mgJ:https://www.gwpharm.com/about/news/gw-signs-exclusive-licence-agreement-commercialise-sativex-australia-asia-middle-east+&cd=4&hl=en&ct=clnk&gl=uk